Bart Frueh Award Winner - Dr. Edith Reshef
Meet Edith Reshef, MD - 2022 Bart Frueh Award Winner for her presentation entitled "Reduction in Extraocular Muscle Cross-sectional Area Following Teprotumumab for Thyroid Eye Disease."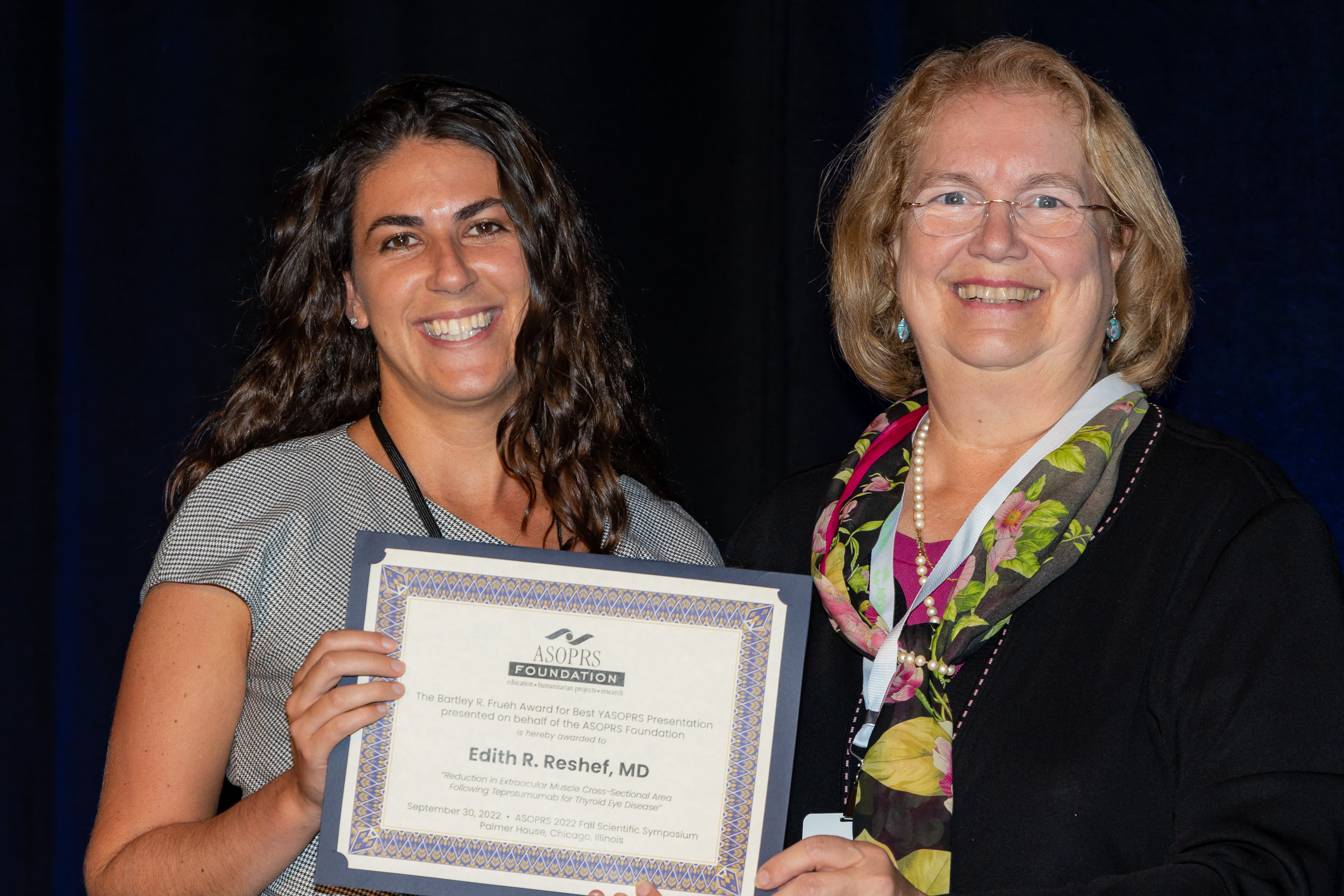 Dr. Reshef attended the Massachusetts Institute of Technology before receiving her medical degree from Rutgers-Robert Wood Johnson Medical School. She completed her ophthalmology residency at the Massachusetts Eye and Ear/Harvard Medical School, where she subsequently completed an ASOPRS fellowship in Orbit and Oculofacial Plastic and Reconstructive surgery. She received a Heed Fellowship Award from the Society of Heed Fellows during her fellowship training. Dr. Reshef is joining the Boston Children's Hospital/Harvard Medical School faculty to develop a pediatric oculoplastic surgery program.
Dr. Reshef began her fellowship training several months after teprotumumab became the first FDA-approved drug to treat thyroid eye disease. This provided her with a unique opportunity to study a new drug with the potential to change the way oculoplastic surgeons think about and treat patients with one of the most common conditions managed by the field. As she followed these patients longitudinally throughout her fellowship training, their clinical courses inspired important questions, such as how to objectively measure teprotumumab-induced changes (e.g., radiographic metrics) and whether anatomic changes correlate to physician-assessed and patient-reported clinical responses to the drug.
Her presentation entitled "Reduction in Extraocular Muscle Cross-Sectional Area Following Teprotumumab for Thyroid Eye Disease" contributes to the body of literature exploring the clinical and radiographic changes seen following teprotumumab therapy. Based on radiologist-assessed orbital CT scans, changes in extraocular muscle size were quantified and correlated to ophthalmic examination findings and clinical outcomes of teprotumumab. The results demonstrate that the cross-sectional area of all recti muscles is significantly reduced following teprotumumab therapy, providing an explanatory anatomic link to the molecular mechanism of teprotumumab. These radiographic changes also predicted the clinical responses seen following treatment, including improvements in proptosis, diplopia, extraocular motility, and clinical activity score. Reduction in extraocular muscle size was most strongly correlated to improvements in diplopia and extraocular motility. Future studies may build on this work to develop scoring algorithms using radiographic and clinical data to predict the probability of a successful response to pharmacologic therapy.
Share this post: